Threesixty recently attended the 3XE Search Marketing Conference at Croke Park on 19th October 2017. The line up was chockablock with over 20 speakers across the day covering everything from chatbots, to site migrations, to maximising PPC, to selling cigars online – it was all-encompassing. Each talk lasted only 20 mins, which meant it was fast and furious. Here's a breakdown of our key takeouts – please feel free to share and comment, we'd love to hear what you think.
An effective search marketing strategy is crucial in a B2B market environment. 89% of B2B researchers use the internet during the B2B research process. On average, B2B researchers do 12 searches prior to engaging on a specific brand's site. Not only is search a great way to increase brand awareness, and generate leads, it's an extremely effective way of positioning your B2B brand as an authority on particular topics.
B2B search marketing differs greatly from B2C search marketing, in that often the goal in search marketing for B2B marketers is not an immediate online sale, but rather inclusion in the consideration set for a potential purchase down the line. Search marketing is, therefore, the first step in a multi-step process of connecting with your target audience, building trust and ultimately making a sale. So whilst a conversion on a B2B website (e.g. 'enter your email to receive our newsletter') will look different to a B2C conversion (e.g. 'click to buy now') that doesn't mean it's less important to the overall business objectives. In fact, B2B conversions often prove to have a higher return on investment in the long term.
So it's important to understand how to make any investment into search marketing work as hard as it should for your B2B brand – and first up, we were interested to hear Kirk Williams of ZATO PPC Marketing speak on how to 'absolutely nail your PPC Campaigns'. His advice included:
Set up campaigns with different keyword formats – so one campaign for 'exact match' keywords, another for 'phrase match' keywords, and another for 'broad match/modified'. This makes it easier to see what types of keywords work best for your b2b brand.
Start remarketing immediately
Start using Bing Ads as it offers a lower cost conversion in general
Use Shared Budgets so you don't top out on due to one particular campaign
Set up automated rules to reduce spend on inefficient campaigns – and use labels for these rules to make it easier for you to understand when you revisit.
Investigate Shape (formerly Steadybudget) – we're not familiar with this one yet, so we'll investigate this and report back on it in a future post
Use the Search Lost Impression Share Column – which will show what leads you're missing out on due to budget restraints – this one we particularly love and will be using straight away…
Target Well – simple but often overlooked, get as accurate as you can with your targeting and you will ensure that your budget goes the extra mile.
Barry Adams from Polemic Digital spoke about How Technology is Changing Search and SEO. Some of the more mind-bending facts included:
Old Search = Google Keywords           New Search = Voice Search and Location Triggers
50% of all searches will be voice searches by 2020 (via Comscore)
There will be 21.4 million voice-activated devices in the US by 2020 (via Activate)
60% of voice search users only started using it in the last year.
He then showed an interesting video demonstrating how this voice-activated AI is developing
So what does this mean for Search and SEO? And how will this affect B2B brands online?
This growth in voice search means that websites will need to be designed around AI requirements – as machines will soon be the biggest audience for your website, not humans. It will be imperative for AI bots to be able to 'read' your website content easily, in order for your website to appear in organic search results. Information that is clearly laid out in tables and bullet points will improve your site SEO. You can see how this is evolving by looking at the 'featured snippets' results that Google currently shows for some search queries: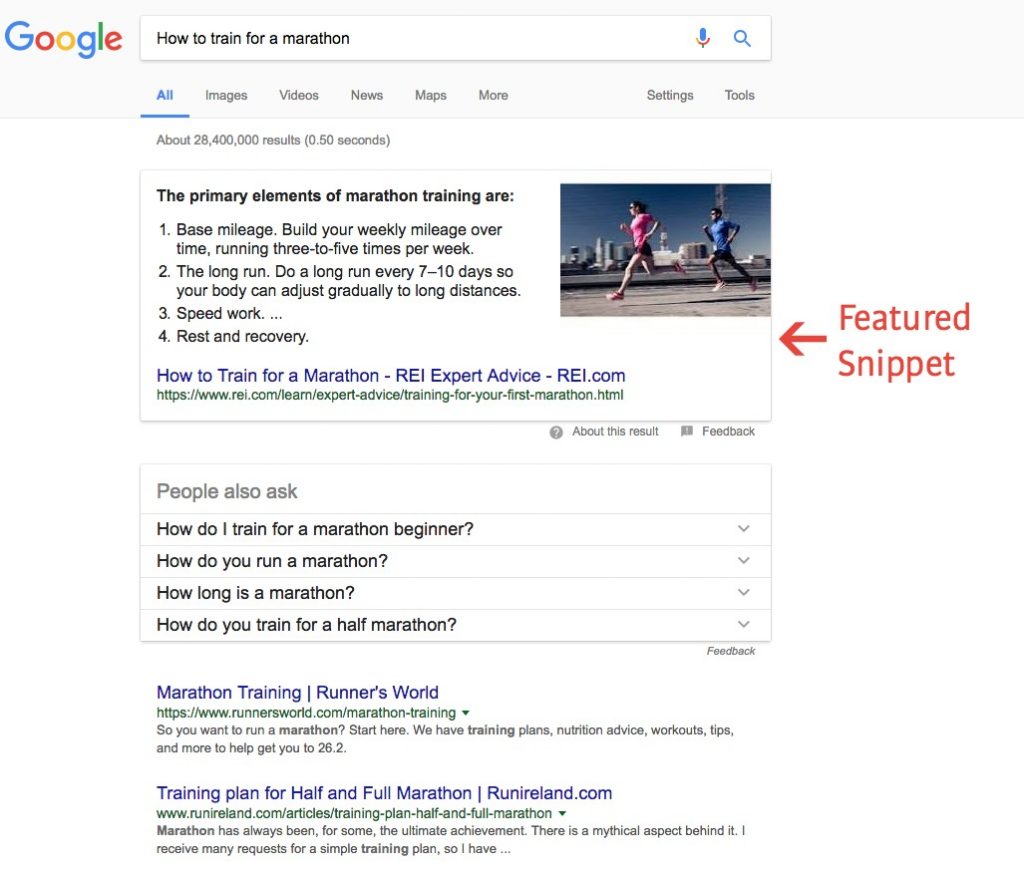 To prepare for the impact of voice search on B2B SEO, marketers should take steps now to begin optimising for voice queries. There are three major ways to optimise site content for voice search:
Focus on mobile. Voice searches are most likely to be conducted on mobile devices, so mobile optimisation is more important than ever. But optimising for mobile goes beyond simple responsive design — you'll need to improve page load speeds, remove intrusive interstitials, abandon drop-down navigation menus and format videos to display in full-screen when held vertically to improve the mobile user experience.
Target long-tail keywords. Voice search queries are more likely to be longer than their text counterparts, and use more conversational language. Find relevant long-tail keywords, and target them in site content to cater to natural language queries.
Target featured snippets. When a featured snippet is populated for a query, voice search devices read the snippet and source aloud. This is a huge boost for brand recognition and authority, as Google essentially declares one company the expert. As far as voice search is concerned, "position zero" is the new page one.
In our next post, we'll share the remaining of our other key takeouts from the 3XE Search Digital Marketing Conference – so sign up to receive our newsletter here or follow us on Facebook.
Have a great week ?