Migro — Digital Transformation Case Study
High-growth Irish ecommerce business sees 7 x increase in turnover in 8 months
"The outputs are great – I'm really happy with the website and the figures speak for themselves! The big thing that's happened in the last 6 months – is that organic feed into the website has grown 15-20% over the last 6 months."
— Shane Torpey, Migro
---
The global marijuana-tech industry is worth an estimated
€26 Billion

and Threesixty is helping one ambitious Irish entrepreneur to stake its claim in this fast moving and innovative market.

Competing in a sector dominated by established global players looking for new growth markets, Migro is an Irish challenger brand offering a range of high-performance LED lighting systems for home growers.
A 100% Irish owned company, with an ambitious growth strategy, Migro export these high-quality LED lights all over the world. It is a pure play digital business – transacting through its website, www.migrolight.com and operating drop ship via a number of online retailers across the world.
Migro approached Threesixty in August 2017, looking for a strategic partner to help supercharge its business – driving revenue and profit margin using digital platforms alone. With products commercialised and a tentative, but non-performing digital footprint in place, what was required was a plan to elevate the online presence and experience to reflect the brand authority and build a global community.
Shane Torpey, Founder and MD of Migro, asked us to respond with a holistic approach, encompassing visual design, web development and digital marketing to help achieve his objectives. And of course fit with a tight timeline and budget.
Opportunity / Challenge
The website was facing challenges in attracting and converting customers and driving sales growth. The site wasn't mobile friendly, consisted of images instead of live pages and the overall customer experience was clunky at best. Whilst the content within the site was factually correct and extensive, it wasn't portrayed in a simple, easy-to-understand way. Work was need to improve the sense of security and trust on the site, and lead users through the sales process.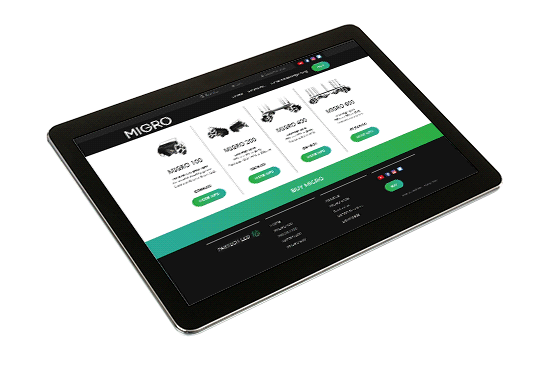 "From a process point of view, Threesixty really impacted my business by taking the stress out of the online part – they freed up my time by taking charge of this, to be honest, quite daunting process"
— Shane Torpey, Migro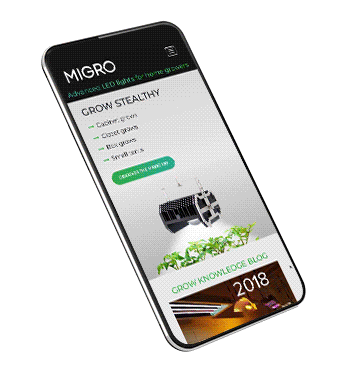 Approach
Using our Digital Transformation Framework of discover, define, design, develop, deploy, then measure and optimise. Threesixty were able to bring Migro through a complete digital transformation, aligning the Migro digital presence and business objectives.
Discover
Threesixty delved into DISCOVERY, examining Google Analytics data, social media and website data, as well as a comprehensive category review. User testing was engaged, as well as qualitative and quantitative research methodologies. Key insights uncovered included oportunities for improvements in User Experience on the website, as well as Digital Marketing and Website optimisation.
DEFINE
We then DEFINED the key deliverables we could achieve for Migro, including a full project scope – with a lean start-up budget and 'need it yesterday' timeline. We also defined an ideal Customer Experience across every Migro digital touch point, placing the customer truly at the centre of every stage of the project, and building around their needs.
DESIGN
DESIGN then swiftly proceeded, evolving the existing brand identity, but improving the user journey through the site by reconfiguring the pages and navigation structure, and streamlining the content to make it more visually appealing and impactful.
DEVELOP
Once approved, the tech team DEVELOPED these designs using the latest frameworks to create a custom-coded site that is fast, responsive and extensible. We further integrated the site with Magento to enhance the multi-site and multi-language functions, and installed plug ins to optimise site speed and performance. .
DEPLOY
In the blink of an eye, it was October and we were ready to DEPLOY – not just a refreshed website, but a comprehensive Google Adwords Campaign, all with the aim of driving traffic to the site and ultimately create more online conversions.
MEASURE + OPTIMISE
…once launched, a close eye was maintained on sales and site data – we MEASURED and OPTIMISED accordingly ….. and the uplift could be seen immediately, within 6 months the key objectives of the project had been met and exceeded:
"When I sat down with Threesixty to review their proposal, from the very first instance we were both inputting on what the business needed – which gave me the confidence that they had done their research and knew what they were talking about."
— Shane Torpey, Migro
"From a process point of view, Threesixty really impacted my business by taking the stress out of the online part – they freed up my time by taking charge of this, to be honest, quite daunting process."
— Shane Torpey, Migro
"My advice to someone in a similar position: Keep an open mind – trust your agency – collaborate and don't get fixated on particular issues . Go to an expert and listen to them! A little knowledge is a dangerous thing! Particularly when you're running your own business!"
— Shane Torpey, Migro
"The insights they had about user experience and the user journey were really interesting – that's not my area of expertise, so whilst initially I was a little hesitant, they won me over and have been proven right!"
— Shane Torpey, Migro
"It was imperative that I hired professionals to ensure my online business is looked after sound – and Threesixty are those experts. I wouldn't hesitate in recommending them – they've helped elevate my digital brand and shift my business up a gear."
— Shane Torpey, Migro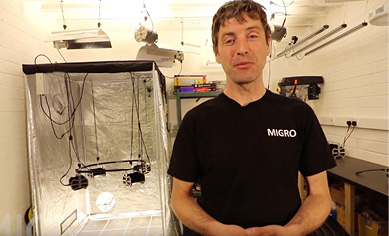 Analysis and results
Analysis of Migro website and user traffic from project launch September 2017 to May 2018
Trust
increase in sales / conversions in 8 months.
Profitability
of sales are coming direct through the migrolight website.
Engagement
increase average session duration – now up to 3 mins 20 secs.
Engagement
increase in pages viewed per session is up
Authority
visitors to the Migro YouTube channel each day, with 250 hours of video content watched daily.
Visibility
Increase in traffic to the site
Our key learnings
"With the Migro Project we hit the trifecta of design, execution and business impact. Shane has an amazing product, and is an undoubted expert in his field – all we need to do was find a way to bring that authority to his website – we're so pleased that he's seeing results!"
— May Stokes, Digital Lead
"Site speed was really impeding this site, so with some updates to the code, we were able to bring it up to optimal level, making a big impact on Migro's organic search ranking"
— Mariusz Januszkiewicz, Digital Developer